Wannemacher Jensen Architects announces that two projects: St. Petersburg College Student Success Center (St. Petersburg, FL) and North Tampa Christian Academy (Wesley Chapel, FL) have been selected for publication in Endeavor Business Media's American School & University 2022 Educational Interiors Showcase. It has been featured in the August 2022 edition of the magazine and online at SchoolDesigns.com/SPC and SchoolDesigns.com/NTCA. An annual competition honoring excellence in educational interiors and facility planning, the Educational Interiors Showcase spotlights today's most effective learning environments.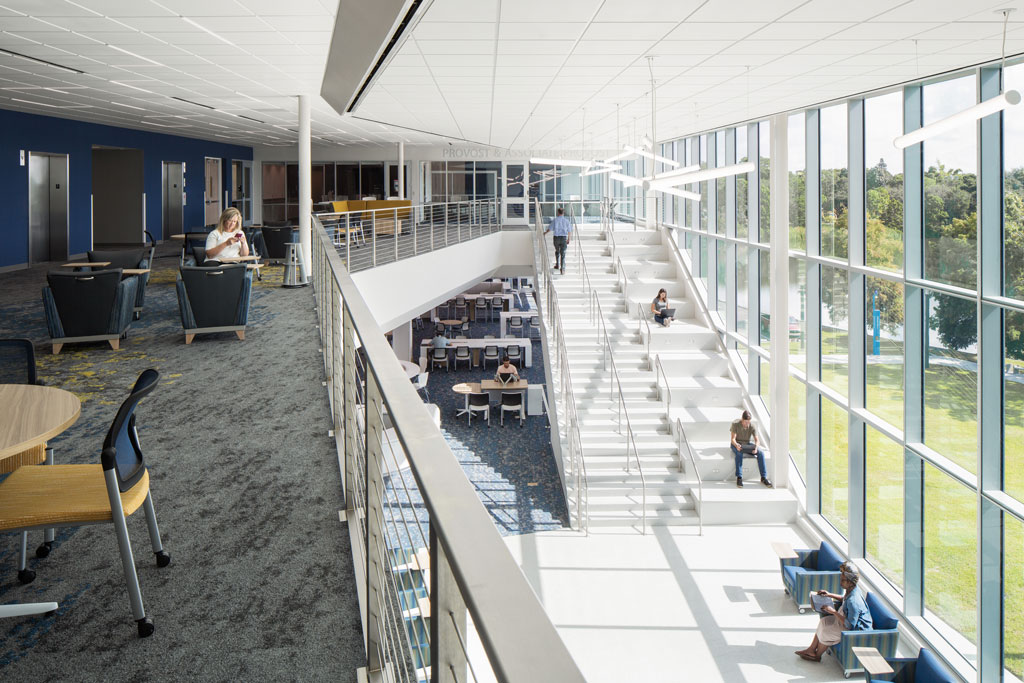 Student Centers / Services Areas
This new Student Success Center brings together key programs for student resources. Housing the registration and financial assistance departments, the three-story, 49,000-square-foot building also blends together women's resources, veterans services, and a large tutoring and learning center. An occupiable interior terrain is created through open floor plates, making double-height spaces that connect large stairs with seating and accessible, flexible shared commons for learning groups and meeting spaces.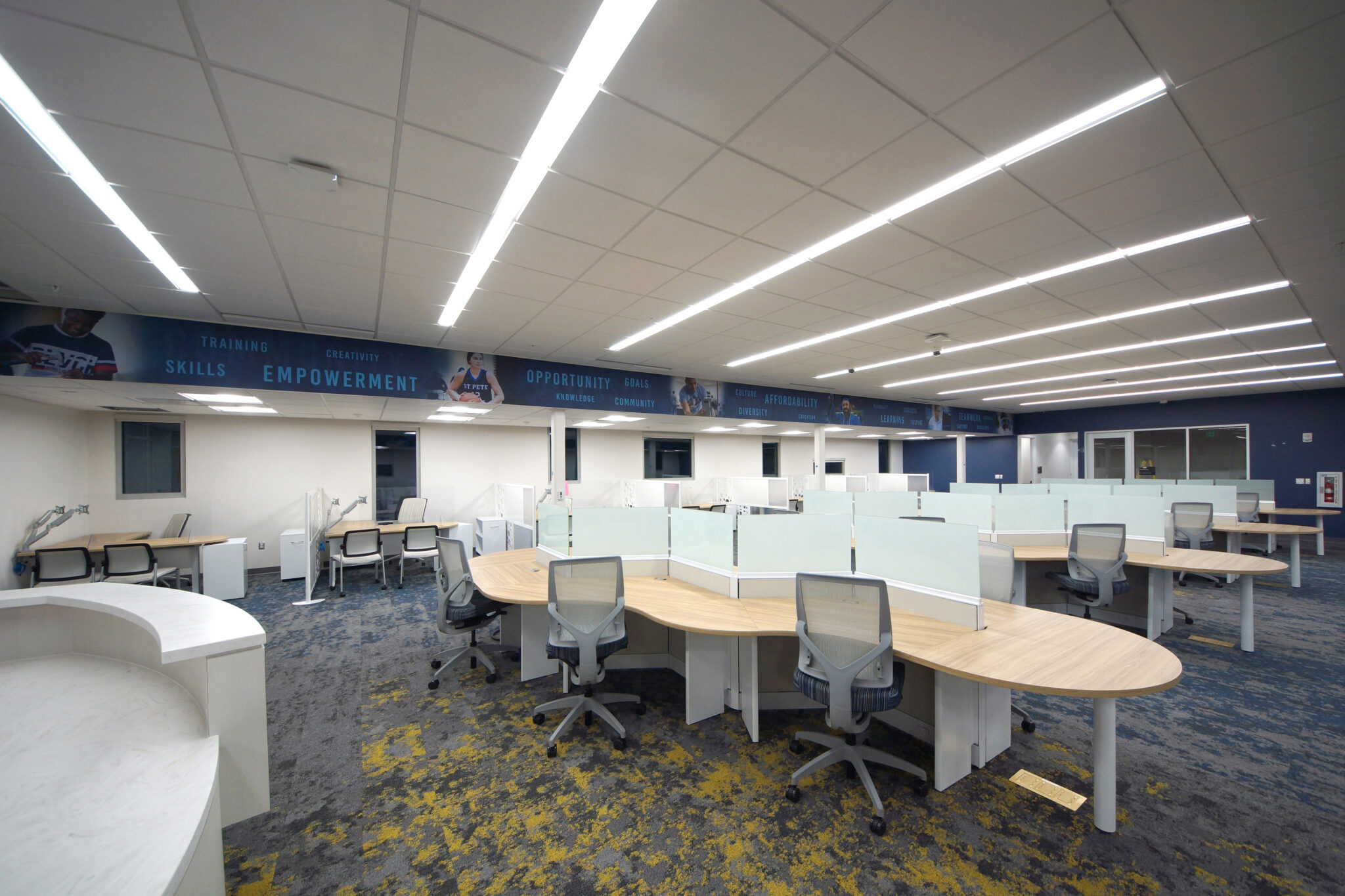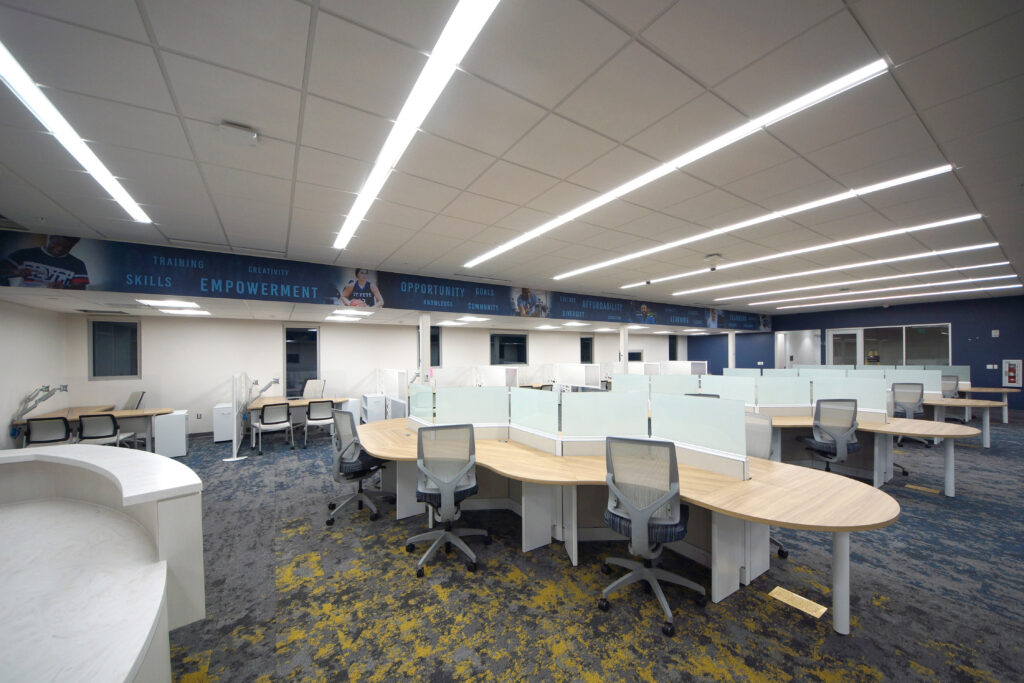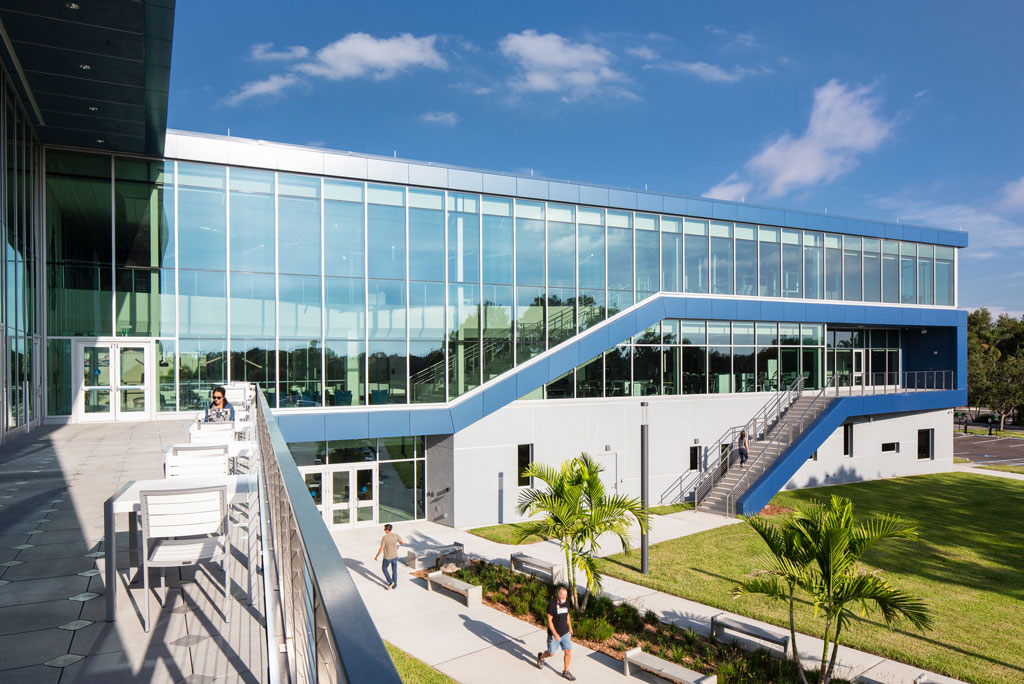 Exterior balconies and a large outdoor classroom along the nearby lake offer interior and exterior learning environments and collaboration space. The building has a large community room with operable partitions to offer a venue for a variety of student events. The interior program is connected to shared commons with large openings and glass storefronts to visually connect, assist wayfinding, and give flexibility to program requirements for collaborative and meeting spaces. Communal workrooms and storage spaces in addition to the flexible seating options offer opportunities for staff, faculty, and students to interact.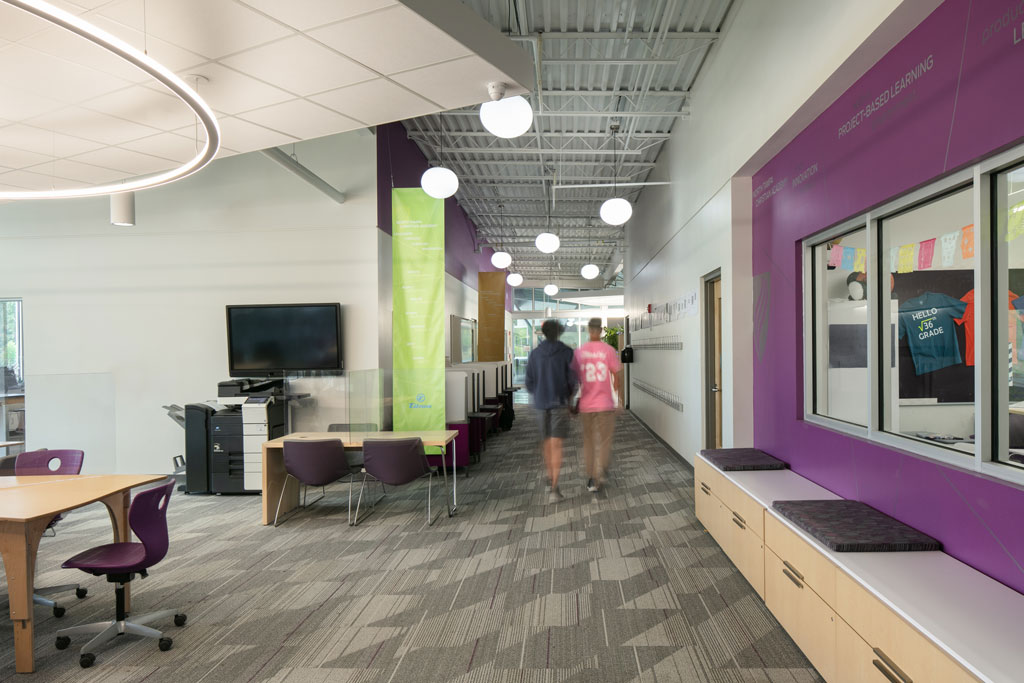 North Tampa Christian Academy – New School
Technology / STEM Centers
North Tampa Christian Academy (NTCA) is a 21st-century learning center designed with science and technology as a major programmatic element. NTCA has state-of-the-art science and fabrication labs. These labs open via overhead door to the covered courtyards so large-scale projects can be constructed and displayed indoors or out. Examples of skills taught in these labs: welding, metal fabrication, woodworking, and other digital fabrication exercises.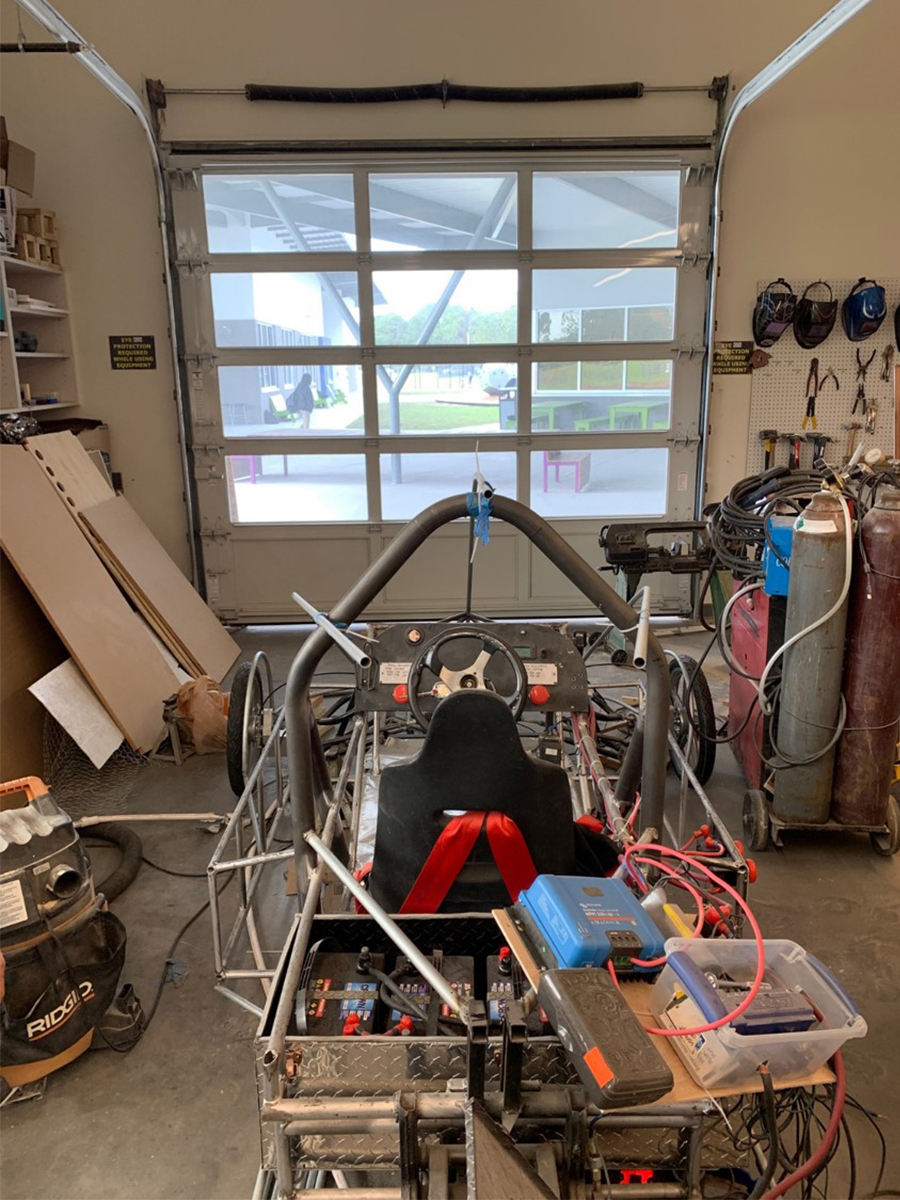 Situated on a 43-acre campus with protected wetlands, the school provides many opportunities to teach students about natural Florida environments. The goal was to create opportunities for students to safely explore and engage in the natural world. To reinforce this concept, indoor classrooms were separated by outdoor learning spaces, which were then covered to protect students from sun and rain. This space between the buildings is as important as the space inside the buildings. Additionally, having this outdoor learning space helped mitigate the unforeseen issues relating to teaching during a pandemic. Other outdoor teaching features include a nature trail, large pond with a dock, island rookery, bat house, and a farming program.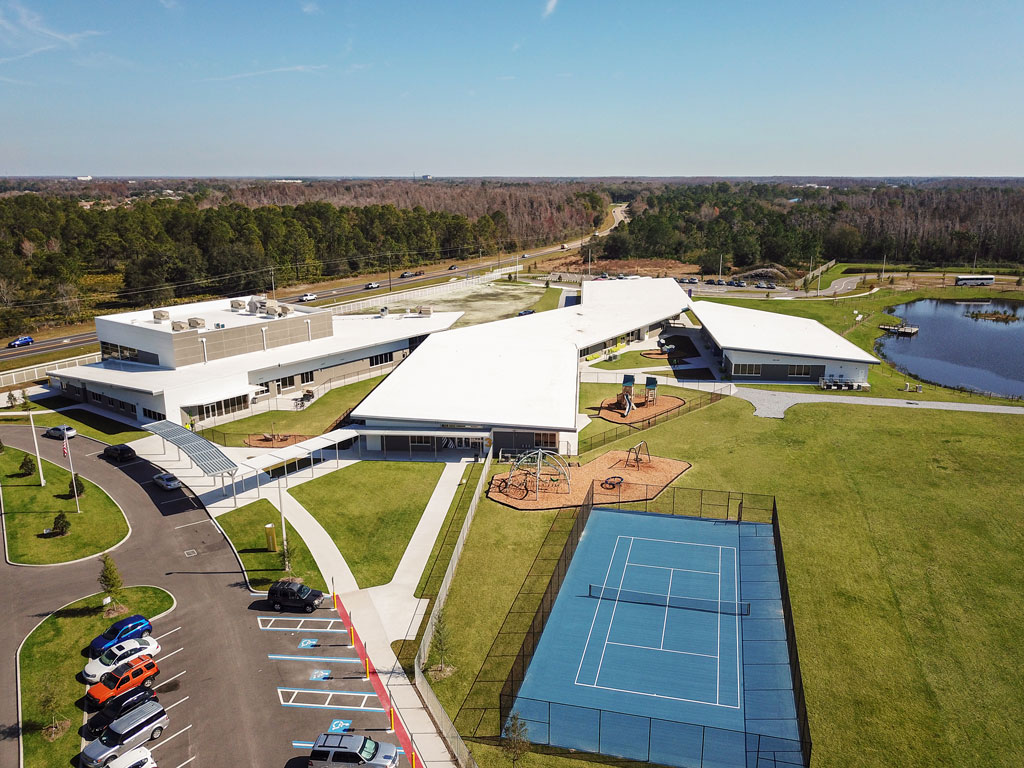 A jury of American Institute of Architects (AIA) members and education administrators evaluated submissions from architectural firms, schools, and universities across the country. Eighty projects were chosen for publication in AS&U, an educational facilities, purchasing, and business administration media brand reaching 57,000+ facility planners, school and university administrators, and architects with this issue. This is the 32nd year the competition has been held.
Each project was considered based on the following criteria:
·       Spaces designed for student wellness and well-being
·       Green spaces; use of sustainable materials
·       Natural ventilation where possible
·       Material selection that is warmer, friendlier, and helps control the spread of contagion
·       Security features integrated into a building or campus
·       Durability and flexibility; spaces that will be long-lasting and can be easily refreshed
·       Facilities that enhance equity across a district or institution
·       Easily maintained facilities
·       Spaces that enhance mental health and connectiveness
·       Facilities that incorporate daylighting
·       Imaginative use of color and how it connects to education
·       Spaces that are appropriate for age group they serve
·       Universal design; spaces that minimize physical and social barriers and provide access to all