Wannemacher Jensen Architects announces that our work on two projects: the Shore Acres Recreation Center and Ina A. Colen Academy were recognized by AIA Tampa Bay.
Our work on Ina A Colen Academy received a 2022 Honors Award which acknowledges our firm's adherence to the highest standards of design and innovation and our commitment to excellence in architectural design. The new 116,000 sf kindergarten through eighth grade academy is built to accommodate 1,000 students. The facility features large 800 sf classrooms, administration space, a gymnasium, and cafeteria.
The design forms a large "Z" shape creating 2 multi-functional courtyards allowing for outdoor learning and opportunities to bring the outdoors inside through large windows and direct connections to the outdoors such as glass garage doors. These design opportunities reflect the school ethos and lend themselves to all types of project-based learning opportunities. Acoustical considerations were made with the selection of ceiling and wall treatment, finish selections and furniture selections, and exposed ceilings with sound-deadening panels for good acoustics. Distinct color palettes were assigned to each building to help students identify with their building and evoke a sense of achievement as they graduate through the school.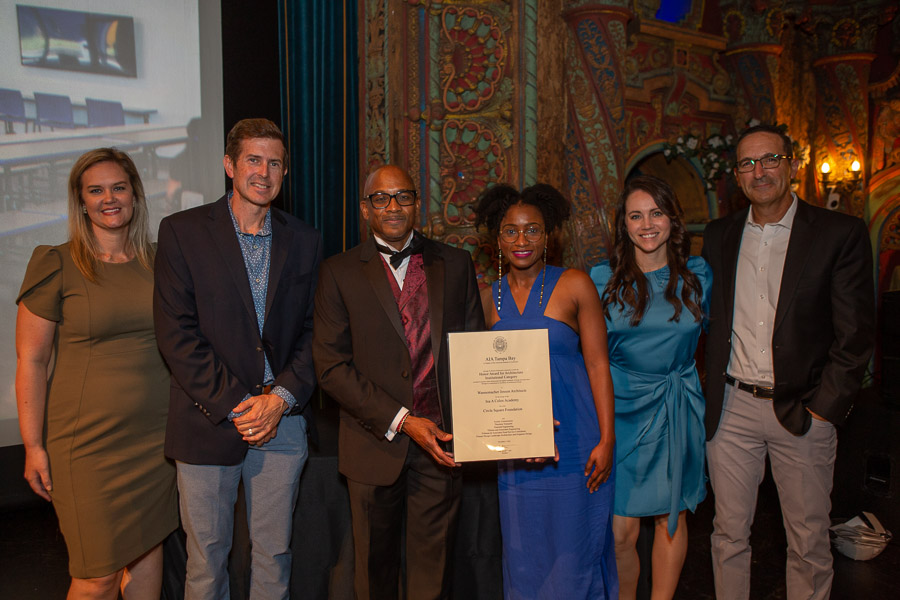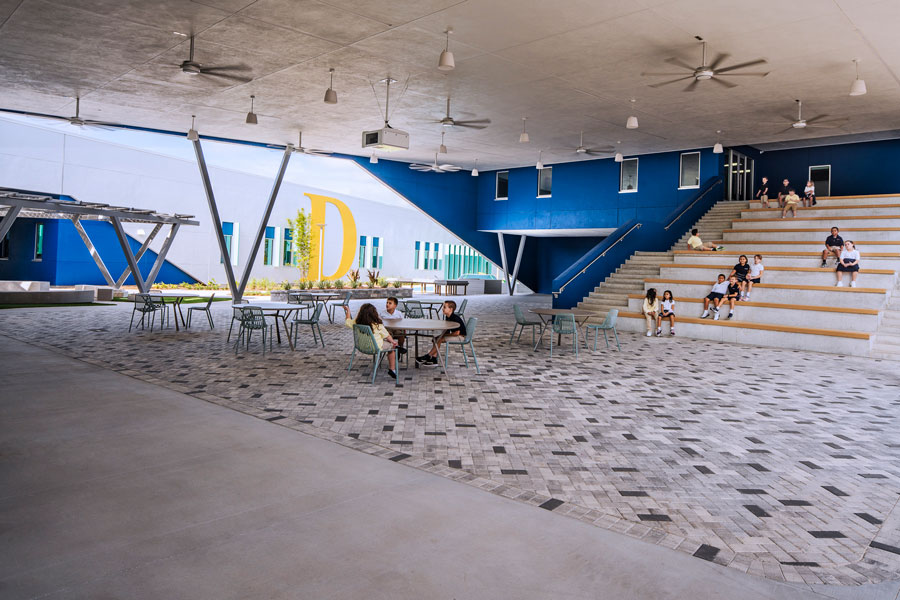 Shore Acres Recreation Center received the Sustainability Award of Excellence which recognizes one project in the Tampa Bay area for demonstrating excellence in sustainable design and environmental stewardship. This award highlights a commitment to creating buildings that prioritize sustainability, energy efficiency, and environmental responsibility. Our team along with the City of St. Petersburg worked to create an innovative design that prioritized sustainable practices while maintaining function and aesthetics and enhancing the well-being of the surrounding community.
The recreation center is located in Shore Acres, a coastal neighborhood along Tampa bay. Taking into account the surrounding neighborhood, our team took design efforts to minimize heat island effect by applying a low-e coating to facility parking lots and using reflective PVC roofing material and landscape surfacing. To combat the flood prone location and rising sea levels, the building's first level is raised 11 ft. above grade and much of the program is built on the second level.
Our design team sought to reduce facility water consumption. To do so, 100% of irrigation is sourced from reclaimed city water for outdoor water consumption. Indoor water consumption was reduced 43.66% from baseline, equating to 52,708 gallons of water saved annually.
Additionally, the building design approach takes into consideration solar orientation, energy efficiency, capital improvement efficiency, building resiliency, low operation and maintenance operation expenses. The recreation center's design provides ample daylight to the main lobby, circulation areas and activity rooms with insulated glass storefront systems and rolldown shades for added envelope thermal efficiency and thermal efficiency. This project achieved the highest number of points (18) possible in the LEED rating system for energy performance and was named a LEED Gold Facility.