The St. Petersburg Pier District will create new experiences between St. Pete's vibrant downtown and its expansive waterfront park system, the St. Pete Pier and Tampa Bay.
Wannemacher Jensen and partner New York-based W Architecture & Landscape Architecture are in the process of developing designs for the St. Petersburg Pier "Approach" (also known as the Uplands project, or the Pier District).
The Pier Approach connects the downtown core to the new St. Petersburg Pier with an active and seamless art-lined pedestrian promenade, offering flexible event space, waterfront dining, market venues and more. A proposed shaded pedestrian promenade will provide both access to the pier and a venue for pop-up tents.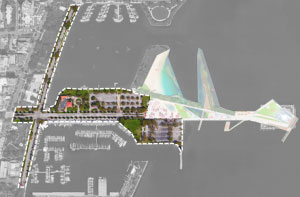 The St. Petersburg waterfront park system is the third largest in North America, encompassing 34 acres of city waterfront. The project will repurpose Beach Drive from the Vinoy Hotel to Pioneer Park, with walkable streets and an Anchor art piece centered in a Grand Pier Approach entry.
The approach will include a wide array of circulation options including the downtown looper trolley, the beach trolley, the ferry, and wide/consistent waterfront pathways. Construction is planned to start September 2017 with completion in September 2018.
Learn More:
New St. Pete Pier Updates
Pier Approach Presentation
Bay News 9 Coverage
Pier Approval