In Malcolm Gladwell's book the Tipping Point he revisits the broken window theory utilized in NYC during the 90's tying visible graffiti and empty buildings to crime and poverty.  Can strategic empty building repurposing and subsequent job creation help climb towards an economic development tipping point for St. Petersburg's Black community?  South St. Petersburg once had a multitude of Black owned grocery stores and business's prior to de-segregation.  Many closed, struggling to compete after de-segregation with larger grocery stores just outside the black community.  Many of those larger stores later closed for decades.  They are empty reminders of the food desert left behind.  Without the Anchor Grocery Stores the supporting retail strips also suffered due to the loss of traffic and exposure.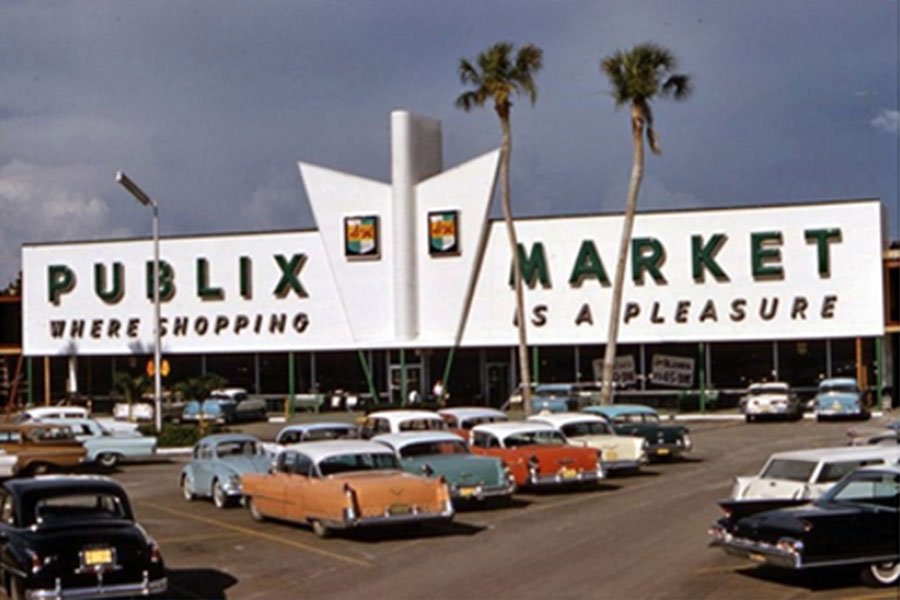 The foundation for a Healthy St. Petersburg chose this site for The Center for Health Equity precisely for this reason.  It would become the anchor, bring in traffic, promote it's neighbors and community.  The mission of Health equity can't be fully achieved without economic equity.  The repurposing of this vacant grocery store simultaneously highlights the past while directly investing in the community's future. Since this building was completed the City has taken steps to repurpose and bring another similar empty retail strip less than a mile away providing additional opportunity.  These actions help fill both physical and economic voids in the urban fabric.  To see a concept repeated is evidence of its success and potential exponential impact toward a community Tipping point. 
Internally the Center for Health Equity convenes the community partners, collects data, and acts as an incubator for non-profits.  To do this they need an extremely flexible and convertible space.  They may have a conference with both large assemblies and break out groups, but they don't have the luxury to house those programs in separate spaces.  One space must convert into multiple spaces within a couple minutes.  To complicate the matter the existing retail structure is not sized to allow any significant additional weight such as acoustic partitions.  A non-traditional solution was required.  The firm also has a focus on entertainment leading Principal Jason Jensen to recommend the use of acoustical curtains.  Four 7-layer Acoustical curtains were configured to provide between one and six break out rooms with additional interstitial spaces outside the pods.  This curtain manufacturer said they believed this to be the largest installation of acoustical curtains in the world to date.  The success of this installation allows the Center to serve a much larger program with half the space.  This creative solution made it feasible for this grocery store to be repurposed within the existing structure and within the existing spatial envelope.  
Behind the Conference space is a collaborative office space which serves as an incubator for nonprofits.  A mix of enclosed office spaces and break out collaboration spaces were designed to create opportunities for cross pollination between organizations.   
This was designed within the original back of house store space. We worked within the existing infrastructure, exposing it within the space.   Different levels of privacy were provided throughout the collaborative workspace allowing multiple nonprofits to co-habitat within the same space.  
As architects we saw the significance of both the location and mission despite inherit structural and spatial limitations that could make this programming problematic.  We had to find a path to repurposing.  Our task was to find design solutions that worked within the constraints.  We used the limitations to fuel innovation with solutions that would not have been implemented in new construction.  The Center's flexibility empowers participants to define their space for social, health, and economic development. 
Integrated Design Build 
This Project was delivered with a truly integrated Design Build process.  The Design Team at WJ Architects sit side by side with the construction team WJ Create Led by John Crum.  Architect Jason Jensen holds ownership in both the design and build operations.  Traditionally Architects have avoided the liability of construction, but we feel this evolution is needed to maintain design values within an expanding design build delivery environment.  Three of the construction staff also have both architecture and construction experience.   This ensures that the design vision and motivation carried from concept through construction.  Renovations require intense investigation and collaborative solutions to be successful and within budget.  We collaborated with mechanical solutions that would not overstress the existing solutions and worked together to evaluate the acoustical curtain solution since this was a unique use of the product.  The design team also created scripts and dimensioned schedules of the cladding to be integrated into shop drawings ensuring accuracy and expediting the install. This project is an example of how integrated design can be leveraged for innovation and efficiency enhancing the design potential. 
Cladding: 
Parametric modeling was used to create and schedule the metal panel pattern on the façade.  A script was used in Grasshopper and then brought into the Revit model.  Since this was design build, we were able to create the shop drawing ourselves and go directly into construction saving substantial time, 
The façade metaphorically represents how two different perspectives or colors can come together to create a new pattern.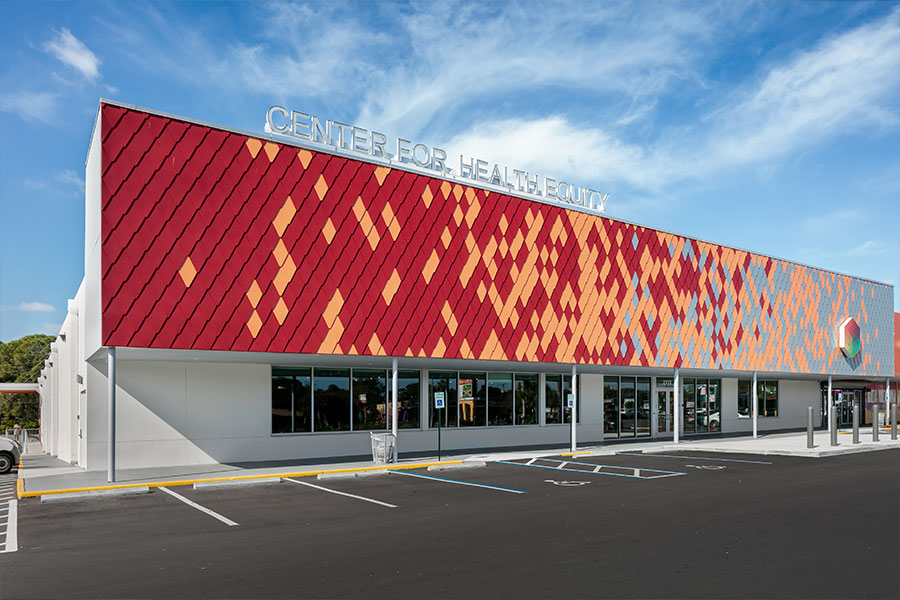 Repurposing Abandoned Big Box Retail 
Brick and Mortar Retail and Grocery stores are continuing to fail in lower socio-economic neighborhoods.  We sought to re-program an abandoned store to re-activate a retail strip mall and surrounding neighborhood.  This projects ambition is to improve the immediate community, be a spark for social change, and fuel health equity progress.  The project is precedence for abandoned Big Box store redevelopment. 
Specifically, this project is a Center for Health Equity Conference Center and nonprofit coworking office project which includes extensive interior and exterior renovations to repurpose an existing 1960s shopping center into a collaborative meeting space for organizations across Pinellas County working toward health equity. The new center will serve as a flexible venue, forum, workshop, and office for various community members and non-profit organizations to come together, share resources, develop strategies and carry out initiatives. The Social Change Center will be used to fuel community-led, multi-sector interventions for improvements in health equity for southern Pinellas County.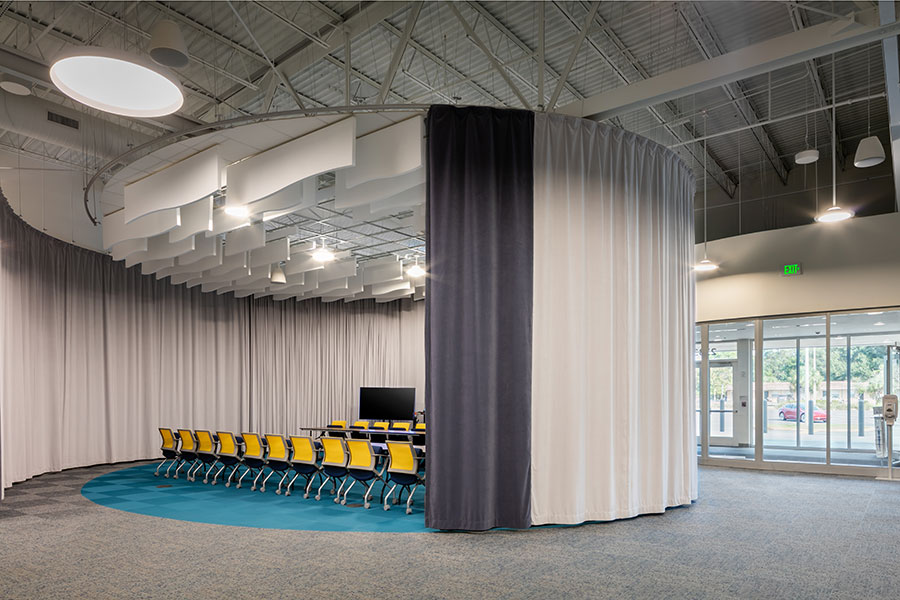 The architectural concept is closely tied to the client's ethos which focuses on fostering unique solutions for health equity that come from within the community. Honest architecture with flexible spaces has driven the special planning of a clear visibility of all activities within the flexible spaces and several large infographics that explain the mission of the space. This concept of honest architecture with flexible spaces promotes the structural details and electric motors that allow the space to function to be clearly visible and celebrated portions of the details. The partitioning of the spaces was done by using 7-layer acoustic motorized curtains that allow a flexible and fluid space as opposed to the typical operable partition. The curtains in their stacked position also help reduce the reverberation time of the large open space. 
The resulting Center is no longer a strip mall but the center of a resilient Community seeking Health Equity.